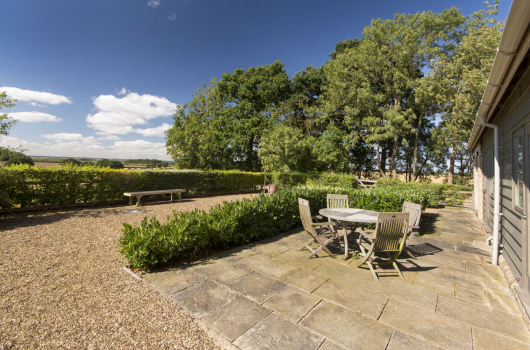 Menu

07712 154009

01832 733125

send email


Northamptonshire Holiday Cottages News

What You Won't Get
August 2007
We have just come back from a week in Brancaster Staithe where we took the children for the Hunstanton Tennis Tournament. The weather was dreadful; that is the luck of the draw but it was the first experience we have had of renting a house since we started Nene Valley Cottages. It was deeply instructive.
My memories of holidays in the UK are that one was expected to slum it a bit. The idea that you stayed somewhere as good as, let alone better than, home didn't seem to occur to any of us in the seventies and even into the eighties. The B&B was the last bastion of the nylon sheet (remember Brentford Nylons, the wonder stock of the sixties that crashed and burned?) and avocado bathroom suites lived on in self catering accommodation long after the last had left owner occupied homes in a skip.
I really thought all this had changed but kept reminding myself as we worked on the Cottages that they had to be somewhere we, as a family, would be happy to stay in. As a result, it may be a bit too personalised; I like pictures so we have a lot of them by artist I admire, I hate wet clothes anywhere but in a warm cupboard where they will dry, I can't stand single beds, blunt knives, not having access to Radio 4 at all times, being overlooked etc. So you won't suffer from any of these because it just seems wrong to ask people to pay good money to holiday here and provide something we wouldn't be happy in. Most important of all, you can't sleep if you don't have decent bed and it isn't a holiday if you sleep badly. We have always had our beds made by AJ Teare in Northampton, as did my parents, and we even shipped some new ones out to Japan when we lived there. So there was only one manufacturer we could turn to and the beds are as comfy as any in the world.
I don't want to go into a lot of detail that identifies the property but it was very basic, about which the agent had been totally upfront, but this did have to be balanced with a near perfect location on the marshes. What they didn't say was that it would be damp, very damp, unclean not just in a dusty way but with cobwebs hanging from the windows and lights and grease in the kitchen on walls, lights and almost anywhere but the worksurfaces that had been cursorily wiped. There was a note to say that we shouldn't turn up the fridge as it was working really which we correctly took to mean it didn't, the toaster was an ex-toaster, the light in the dining room broken with live wires protruding where someone had tried to tape the cable back together, the TV was covered with dust enough to be able to write 'please clean me' on the screen and the bedding so old and thin that we had to retreat into rooms at the back of the house as wind blew through the closed windows and froze the children. The 'Welcome Pack' comprised a cake, a packet of crisps and a drinkable bottle of rosé (maybe they should have thrown in 20 No 6 to underline the sort of clientele they expected) and, even worse, despite guidebook assurances to the contrary, we were expected to provide our own towels and feed a meter with £1 coins to keep the electric going. When did anyone last see one of those? But, to me, the most incredible thing was that there were no radios anywhere in the house. Surely everyone listens to a radio station sometime during the week if only to get the weather forecast? And they only cost £20 for a good one and £2.99 for a simple clock radio.
I am not telling you this for any other reason than to let you know that we really do know what it is we are trying not to be. Sure, a toaster will break one day at Nene Valley Cottages, but we will fix it ASAP and the cleaners may miss a corner by mistake although I bet Heather finds it before a guest does. What I can promise you is that we will make you feel welcome. For those who haven't met Heather, you will know what a warm greeting is after you have. She will tell you how things work, what to do, answer your questions and not leave until she is sure you are settled in. My part is to provide, in a pack that we hope really does say 'Welcome', bacon and sausages that have been handmade. There will be enough provisions to ensure that if you have missed the shops you will be able to feed yourselves that evening, have a glass of wine, a decent night's sleep and a proper breakfast the next morning. The only thing you may miss is the paper and a chance to do the Su Doku before you venture out but I'm afraid there are no deliveries in this part of Northants. We want the process of recharging your batteries to be well under way by the time you emerge on your first morning.
The whole experience of our Brancaster week has underlined what we strive to do and urged me to make sure that we don't allow standards to slip out of complacency. The cottage we rented is apparently full for much of the summer with repeat bookings, some repeated over many years. One day a recession will come and the consequences of the way these loyal customers have been treated over the years will come home to roost. You can be assured that this will never knowingly happen here.
Nene Valley Cottages
18 School Lane
Islip
Northamptonshire
NN14 3LQ
Booking Conditions
|
Website Policy
|
© Nene Valley Cottages 2006-2019
website design © Scottish Web Design