Northamptonshire Holiday Cottages Information

It's All In A Name
Wigsthorpe is a quiet hamlet with only ten houses, one of which was occupied by Len and Alice Cooves.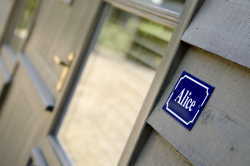 Len arrived in the village in the 1940s and, as a result, always described himself as an 'outsider'. His first date with Alice was a bicycle trip to the cinema in Peterborough, 16 miles away, and she wasn't very impressed. They always had a soft spot for 'the barns'; the last person to use them was Alice's brother who fattened bullocks there. Many times Len asked me if we would restore them as he really wanted them preserved. Eventually, I asked them if it was where they had courted. It was the only time I saw Len blush, and Alice just smiled as she always did.
Alice became crippled with arthritis and Len nursed her for over a decade, during which I never once heard either of them complain about either her pain or the restrictions it placed on them. After Alice died, Len faded away and was gone within a year.
Two of the units interconnect with the smaller one adapted for the mobility impaired. We have called them Len and Alice. I wish they had been finished in time for their namesakes to have been able to spend time there together.
The third unit is named Graham after Graham Ball, the builder, who almost single handedly reclaimed the bricks, pantiles and roof trusses, dug the original stable bricks from under the concrete floors, consulted reference books on vernacular building styles, and visited reclaim yards all over the region to ensure bought in materials matched those on site. The colour of the ironwork, the shape of the stone corbels, the detailing of the brick gables... each was the subject of long debate which needed the experience and sagacity of the master craftsmen who created these wonderful properties over three years.
To be honest, we had such fun working on the project that it was a bit of a shock when the work finished and we had to let the customers in. Heather couldn't bear the thought of not visiting a place where she had brought Graham his lunch most days which is how we managed to persuade her to take on running Nene Valley Cottages for us during the first few years.
Nene Valley Cottages
1-3 Nene Valley Cottages
Clopton
Kettering
Northamptonshire
NN14 3DZ
Booking Conditions
|
Website Policy
|
© Nene Valley Cottages 2006-2023
website design © Scottish Web Design